The Lauber L-ENZ drying unit provides a complete solution for drying bulk biomass fuels, the L-ENZ can come either with or without a housing and is provided in four sizes.
| Model | SPECIFICATION |
| --- | --- |
| L-ENZ 80 | 3 kW electrical / 80 kW thermal » 1 containers of wood chips or 2 containers of firewood |
| L-ENZ 150 | 5,5 kW electrical / 150 kW thermal » 2 containers of wood chips or 4 containers of firewood |
| L-ENZ 370 | 11 kW electrical / 370 kW thermal » 4 containers of wood chips or 8 containers of firewood |
| L-ENZ 650 | 18.5 kW electrical / 650 kW thermal » 2 containers of wood chips or 4 containers of firewood |
By working with installed frequency transformers, electrical consumption is extremely low.
By drying wood chips from W50 to W20, electricity consumption is approx. 3 – 4 kWh / m³ wood chips. On average only 1 – 3% electrical performance is needed to use 100% thermal heating.
Essentially the L-ENZ is an energy transfer station converting hot water into hot air, but at the correct pressure, temperature and timing to optimise the drying process according to both fuel type and heat source.
The L-ENZ controls are state of the art touch screen technology allowing precise control and constant maintenance of efficiency through frequency modulated fans and pumps.
Energy Navigation Zone
The L-ENZ, in connection with roller containers, is a powerful drying system designed to cure coarse bulk materials. Heart of the plant is the Energy Navigation Zone which is designed to utilise any available excess heat, for example from heat intensive production processes or the spare capacity of a boiler based heating system. The LENZ produces hot air and distributes it to the connected drying containers controlling air flow, air pressure and temperature.
The typical drying time for woodchips from fresh to 10% is approximately 2 days.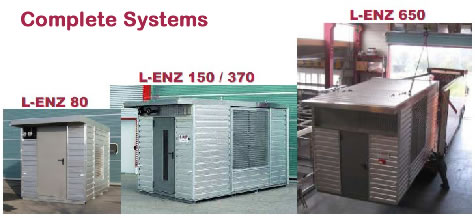 The L-ENZ 80, 150 or 370 can be supplied without the housing if suitable weather protection is provided on site.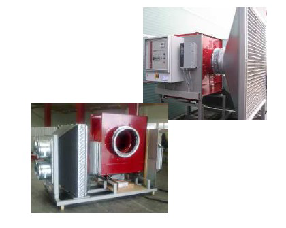 The L-ENZ works in connection with roller containers which are equipped with a special universal drying floor to allow air to pass through the load from underneath.
The warm air produced by the L-ENZ is pressed into the ventilation system through flexible hoses. To connect several containers at a time a ridged air channel can be deployed. A L-ENZ 370 for example can be connected to up to four containers.


The containers are used both for drying as well as for transport and delivery. This makes it possible that wood is chipped straight into the container and delivered after drying without reloading.
The L-ENZ is delivered ready for connection with the technology room and the flexible control system. The high quality components including the radial fan, two frequency changers, circulation pump, the heater battery and heating controls are already installed. Within the scope of delivery also are maintenance doors, fork lift pocketsand hoisting eyes.

Docking Station with Guide Rails (optional)
A docking station (with guide rails to position containers) facilitates easy connection of containers to the air channel. A connected container will automatically be recognised and the drying started.

Touch Screen Panel (optional)